'THE WRIGHT WAY' WITH DAVID WRIGHT
About David & The Show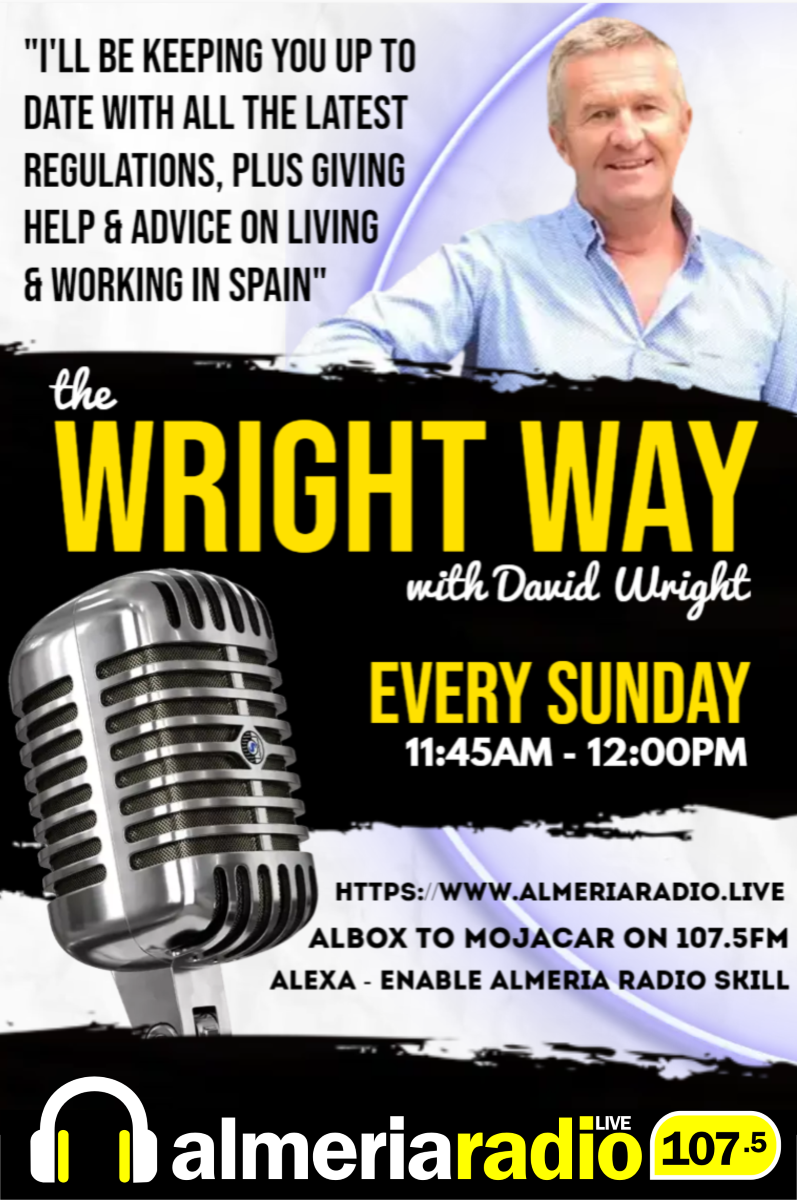 The Wright Way, with David Wright is live every Sunday from 11.45am - 12.00pm.
David is a fountain of knowledge having lived, worked and employed staff here in Spain. And every week he will be providing information on changes in the laws plus delving deep into the regulations and getting you the right information on driving, building, travelling and more.
David has many legal contacts in Spain including a Spanish accountant and tax expert who is also the Honorary British Consulate in Almeria who focuses on living and working in Spain.
He has also appeared as a guest, live on BBC TV news, channel 4s 'A Place in the Sun' and provided many radio interviews making sure listeners get the right information.So tune in this Sunday at 11.45am for his brand new show and submit your questions and let David help you.This week we have some great news about changes in the Non Lucrative Visas!



'The Wright Way' with David Wright is sponsored by Savador Tax & Legal. who are a team of experienced specialist advisers who act locally, nationally and internationally, in Almería, Mojácar and Albox.
https://gruposalvador.es/en/home-english/
What is coming up on the next show?
On next week's show 15th May at 11.45
Tips and advice on dealing with the Spanish bureaucracy
and this digital certificate everyone's talking about. , Is it worth having and what can you do White it. Plus how and where you can get yours.
Getting in touch with me
You can contact me on the live chat during my show 11.45am-12.00pm Sundays or email david@almeriaradio.live.
Catch up with previous shows
Every show will be saved and available as a podcast.
Click the show you would like to listen to below:
The Wright Way (Show 1) Non Lucrative Visa
06/03/2021
The Wright Way (Show 2) Driving in Spain
13/03/2021
The Wright Way (Show 3) Non Lucrative Visa with Alejandro from Salvador Tax & Legal
20/03/2021
The Wright Way (Show 4) Building In Spain
27/03/2021
The Wright Way (Show 5) Renting and Buying In Spain
03/04/2021
The Wright Way (Show 6) Learning & Speaking Spanish
10/04/2021
The Wright Way (Show 7) Working In Spain
17/04/2021
The Wright Way (Show 8) Licences, Tax & Visas with Alejandro from Salvador Tax & Legal
24/04/2021
The Wright Way (Show 9) Savings and Investments with John Diking
01/05/2021
The Wright Way (Show 10) Mortgages and building in Spain
01/05/2021



'The Wright Way' with David Wright is sponsored by Savador Tax & Legal. who are a team of experienced specialist advisers who act locally, nationally and internationally, in Almería, Mojácar and Albox.
https://gruposalvador.es/en/home-english/